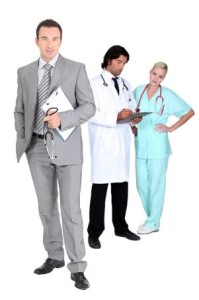 According to Forbes and Bloomberg, studies show that small businesses have a whopping 80% failure rate within the first 18 months of operation.  But, what does that mean to your medical practice?  It means you may just be treading water and not even know it. Kathryn Moghadas, a practice management consultant with Associated Healthcare Advisors in Fern Park, FL, told Medscape points out that "If you find yourself reading articles on a topic, it's usually a sign you have an issue that has to be dealt with. I don't know a single person who would read an article on building a practice unless they needed to build a practice."
Self-analysis is the key to physicians finding themselves huddled in with that small percentage of successful businesses.  The more you are open and aware of the inevitable missteps, mishaps and mistakes that  can occur at any given time, the more likely you are to stay out of the proverbial small-business purgatory. So, what are a few of the most common blunders that small business owners – and healthcare business owners – make?
Physicians Face Small Business Challenges
1. Untrained Leadership
To put it in statistical category, about 97% of small business owners fail within their respective practice due to weak, ineffective leadership. But, let's face it, leadership is not exactly something that can be taught.  Most effective leadership qualities are typically innate.  The other portion is learned through basic trial and error, and rigorous self-assessment training.  Many physicians may face a struggle as they seek to find balance through a "Top Down" style of management.  You can't be everybody's buddy at all times, yet the dictatorial style of leadership has proven to fail time and time again.  Good leadership for your medical practice includes setting a purposeful course for everyone involved, constantly communicating practice goals, and being an open inspiration to the medical team.
2. Lack of Marketing Strategy
Marketing used to be a foreign concept to those with a medical practice.  Unfortunately, the days of pinning your business success to properly executed grassroots marketing campaigns have long subsided.  It's imperative that doctors develop a marketing strategy to improve patient traffic and public awareness (thus increasing potential revenue), through developing your own individual brand.
What does all this mean exactly? Here are some solutions:
Make Time to Network, Again
There's no way around it.  Your physician(s) have got to meet and network with patients, prospective patients and other doctors.  Employ the "Rule of Three."  Strive to meet three potential referrers per week.  Try to avoid your typical medical colleagues.  It's also a good idea to meet with non-physicians on a regular basis, too.  The point is to reach out to people who don't already know about your staff or your medical practice.
Keep Your Brand in the Know
Five:  that's how many times people need to see something before it's recognized. So, physicians must be sure to get their name out there, wherever potential patients look. That means publications, social media, free-standing office signs, and even mailings to patients and local residents.
Build a Great Website
This one is pretty self-explanatory.  Every medical practice must have a good website – one that reflects your expertise and echoes the style of any patient-education materials.  It's also essential that your web address be legible on all print, ad and media materials.  And, do your research.  Websites are the best avenues for patient communication with your medical staff. Be sure to allow for HIPAA regulations, as well. A well maintained website ensures that you stand apart from others inside your market.
3. Not Asking For Help (When it's Needed)
Do you envision employing the aid of others as a general sign of weakness?  If so, you may want to subscribe to a different philosophy for running your medical practice.  According to an article published by CNBC in 2011, author Mike Michalowicz ascribes the greatest mistake of an entrepreneur's career to believing he/she can do everything all by themselves. Don't fall into the trap of constructing the shell of a car and assume that it's just going to run (or that your natural proficiency can make it into a well-oiled machine).  The more physicians learn to delegate their time and resources, the less they have to worry (say goodbye to those long days and nights).
One effective way to delegate is by bringing in a medical management consultant, who can oversee areas that you find challenging or time consuming.  Consultants typically work on a flat-fee or per-project basis.  Experience, geography, and size of practice all factor into the cost.  The good news is that a successful healthcare management consultant knows, and will offer, cost effective strategies to meet the specific needs and expectations of the client.  And, the typical physician's ROI (return on investment) is well above the average cost of investment.
Remember, it's all with the intent of growing your practice and making it successful!
So if you're worried about falling into the pitfalls of small business ownership, do your homework and seek trusted sources such as the medical office consulting experts at Synergy MSO.  We have more than 30 combined years in the healthcare industry and can show you exactly what you need to achieve success for your medical practice.
Contact our Dallas, TX, medical office consulting team at 214-550-1469.