Why Financial Awareness is Essential to a Successful Practice
Running a successful medical practice requires a number of things, but one of the most crucial and overlooked aspects of doing so is your practice's finances. Far too often, medical facilities find themselves so busy with other aspects of running day-to-day operations that fiscal responsibility falls by the wayside, and many practice owners wake up one day to find that the practice has become insolvent. In addition, not conducting any kind of thorough financial review for the medical practice can eventually lead to lessened patient satisfaction. Equipment and supplies that have to be put on hold due to a lack of funds means that patients may not be able to receive the quality of care that they should, and this not only affects their health care, but it also can affect your practice's reputation.
It's About More Than Just the Facility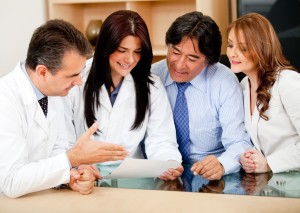 What's also important to realize when considering the finances of your practice is that it's about more than just the facility itself. While keeping up with things such as supplies, equipment, patient fees, and insurance billing is important, you also need to consider things such as medical malpractice insurance costs, employee pay, compensation plans, and commercial liability insurance. Unfortunately, many physicians and practice managers simply don't have the time to keep up with all of this information each day, leading to money falling through the cracks.
What Can Be Done?
One of the best ways to remedy the situation is to receive a full financial review from one of our leadership team at Synergy MSO. A financial review is an in-depth look at the ins and outs of your practice's finances, giving you the chance to see where problem areas might lie or where things could be made more efficient. Our team can offer you insights into all of the finances surrounding your practice, including patient billing, insurance, and supply costs. In many cases, a financial review can help practices that are experiencing financial problems to become more effective at managing money, ultimately allowing them to stay in business and serve patients better.
Financial Review Solutions for Medical Facilities
If you're concerned about the state of your practice's finances, Synergy MSO can help. Synergy MSO offers a range of medical practice management solutions, including financial review and medical consulting services, in the Dallas, TX region. Whether you're unsure of your cash flow or you want to have a more comprehensive view of your medical billing procedures, Synergy MSO can get you headed in the right direction.
To get started and gain peace of mind, contact Synergy MSO at 214-550-1469 today.